Born 31st of August, 1974. Zodiac sign - Virgo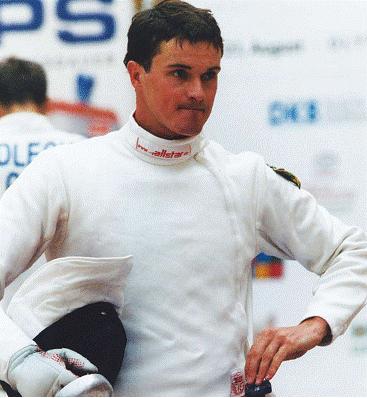 I was born in Kaliningrad , formerly in the USSR (now - the Russian Federation ). When I was only 3 months old, because of my fatherís sport career, my family moved to Klaipeda (former USSR , but these days a Lithuanian city), where we lived for many years...
As you could probably guess, I grew up in a family where sport was highly valued, cultivated and encouraged. For years my mother worked in swimming pool administration. My father was a Modern Pentathlon athlete in the former USSR .So from the moment I was born it was inevitable that I would become involved in this sport. My father would always take me to his training in order not to leave me home alone and also to make my leisure time more interesting. Due to this I had a lot of opportunities to observe him in action. In time I became a pentathlon athlete myself. I never really thought of getting involved in any other sport, because pentathlon was highly dominating in my environment. In that sense I was different from many other athletes, who came to pentathlon from swimming or other disciplines. This was not the case with my younger brother, who also got involved in sport, but chose instead soccer.
I started Modern Pentathlon in 1989. This was marked with another change in my life - again due to sport I moved to another city, this time it was Kaunas , and changed my coach.
From that moment, pentathlon became my life. I stayed in Kaunas until 1996, the year that was marked with my first Olympic Games in Atlanta . It was a difficult time in the sense that I worked very hard. I had to decline a lot of activities that many of my friends were enjoying. However I never regretted it. I was totally immersed in sport.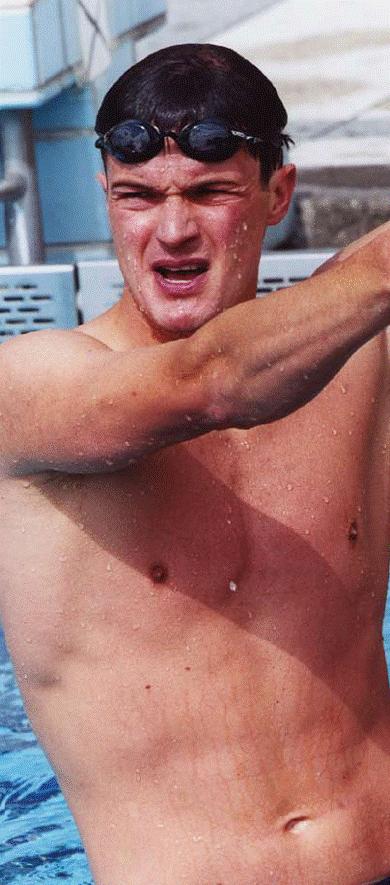 My first Olympic Games was very important to me, I wanted to have a highly placed result, however no one really anticipated expected great expectations for me, so the Games were also a kind of festival for me. I really enjoyed it. One of the most enjoyable things was that I could meet, in person so many sport stars from Lithuania and the world. I took 12th place in those Games. Even though I was very young, I was in a very good physical shape. I probably could have taken higher place, but I scored very poorly in shooting.
In Atlanta I met people who were to become very important in my future life. Some of them suggested
I should enter university, which I later did. After the Olympic Games I moved to the capital city of Lithuania , Vilnius , where I currently live. In that year, as was suggested by some people, I entered the former Lithuanian Law Academy , the faculty of Social work. This was one of the reasons for my move. I spent 6 years in this university and graduated in 2002, receiving a Master degree in Law.
When I moved to Vilnius , I once again changed my coach. He cared a lot about my future life, and he was one of those who wanted me to study in the university.
My new coach also emphasized shooting skills, therefore my results in this discipline started improving.
Basically 1996 was the year when my most significant successes in sport occurred. One of my most significant victories was in the 1997 World Championships where I took 3rd place.
The first two places were taken by Sebastian Delegne and Dmirtyj Svatkovski, the real stars in pentathlon at that time.
The year 2000 was especially fruitful for me. First of all I won the World Championships in Pesaro , Italy . Later I took part in the Sydney Olympic Games which were very different from my first Games. I went there as a favourite of the games. The expectations were set very high for me. However once again, I performed poorly in shooting, but, my results were better than in my first Games ...by 10 points. Even though my shooting was not so good, I was still capable of getting a medal. However I then had a poor result in riding which took away my hopes of a medal. In the end, I was able to achieve only 7th place which was considered a rather lowly result by the many sport specialists who had expressed such high expectations. But I was quite happy about it.
The next Olympic cycle was full of significant victories. I won several World Cups and the, European Championships, however my main goal was that of so many athletes - I wanted to get to the next Olympic Games in 2004.
In 2004 the situation was very similar to that in 2000. I won the World Championships in Moscow , Russia . It was very satisfying, however I experienced it as a kind of burden. I went to the Games in Athens once again as a favourite, which added extra pressure to my situation.
However those Games were for me, much more successful. Though my shooting was not very good yet again, I managed very well in other disciplines and became the silver medalist, theĒ vice-championĒ. That was one of my dreamcome-true events. Of course, I wanted to win, but in sport a wish is not enough.
After the Games, in 2005 I had a tough time. After big victories I became a little over-relaxed and therefore my results were worse than before. As if that was not enough, I suffered a knee injury The situation became even worse than on my last training before the World Championship in Warsaw ( Poland ). Whilst riding I broke my collarbone and had to undergo surgery where a metal support was added. So 2005 was one of the worst years in my sport career. During the last two years I have been preparing for the Olympic Games in Beijing . I took 3rd place in 2006 in the World Championships held in Guatemala . And this year I took 3rd place in the World Cup in Beijing . Modern Pentathlon is an amazing sport. Itís not only about speed and strength, but also about mental toughness. It includes such disciplines as shooting and fencing that are more mental than physical. Although itís not as profitable as tennis, it brings together and nurtures wonderful people, who are strong physically and mentally. That helps a lot to find a place in life after sport.
I wish that pentathlon becomes even more popular and more profitable so that athletes, after they finish their sport career may have financial backup to start their own business or another activity they want.
If you have any further questions, please do not hesitate to ask. It was quite difficult to put all my experience in one piece, so if you feel thereís something missing ask me, it will be easier for me to write an answer to you when I have concrete questions. I also would like to say that when writing this presentation I received help from my friend Lina, who helped with English (so if you find mistakes, blame her!
Andrejus Zadneprovskis